Bradley W. White D.D.S.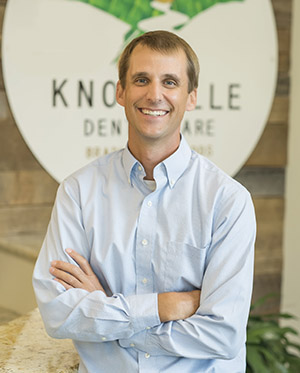 Dr. Brad White feels very fortunate to be a part the dental community. Dentistry allows him to connect with patients in a one-on-one environment and help them improve their quality of life.He takes a gentle approach, easing any concerns you might have by providing valuable patient education. He works hard to change the image of dentistry by teaching his patients that it is not just about fixing teeth but about improving overall health, both mentally and physically. Dr. White listens so he can best understand your particular needs. He enjoys interacting with people and getting to know them on a personal level. It is these important relationships that mean the most to Dr. White.
Education
Dr. White is committed to continuing his education to provide the highest quality of care to his patients. By staying current on the most up-to-date research and techniques and staying involved with the greater dental community, Dr. White is able to provide his patients the most advanced treatment options that provide the best results.
Professional Affiliations
Outside the Office
Dr. White is a native of Chattanooga, Tennessee, and moved to Knoxville with his wife, Ashley. Together, they have three children, Lydia, Wade and Tripper, and three dogs. He enjoys spending time with his family, running, fly-fishing and hunting. Dr. White is also very involved in his church and throughout the community. He works at the Interfaith Health Clinic, volunteers at Remote Area Medical and serves on the board of Senior Citizens Home Assistance Service. Being active in his community allows Dr. White to give back and help others who may be less fortunate.
Meet Our Team
Who will you meet at Knoxville Dental Care? We have an awesome team that is caring, personable, good at explaining procedures and oral hygiene and with patients. We know that some people do not feel comfortable during their dental appointments in Knoxville, Tennessee, and our team is great at helping patients overcome their dental anxiety. You will always be greeted warmly and with a smile. Our patients are our top priority and you can call 865-573-4593 to plan your visit and find out why!
Jessica L.– Dental Hygienist
Jessica graduated from dental hygiene school has been with Knoxville Dental Care since 2016. She strives to provide thorough and friendly care to our patients. She creates a good environment for our patients that helps them to feel comfortable. To assist everyone in understanding the process of their treatment, she can speak both English and Spanish. Jessica is motivated to do her best and stay updated with the latest developments in dentistry. She especially appreciates that chance to do her job in a professional environment where people have a sense of humor!
Jessica and her husband have one daughter and when she is not at work, she enjoys spending time with friends and family as well as outdoor activities and craft projects.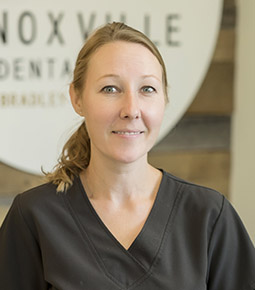 Jessica K. – Dental Assistant/Registered Dental Hygienist
With years of experience as a hygienist, Jessica joined our team in 2012. After five years with us as a part-time hygienist and two years as an assistant, she decided to do both. She earned her Associate of Applied Science Degree from Roane State Community College in 2005. She loves the amazing team and superb working environment at Knoxville Dental Care. She enjoys coming to work and appreciates how our office "stays in the know" and incorporates the newest technology for the comfort and safety of our patients and to enhance the quality of our care. She strives to make every patient feel welcome cared for and safe and to be confident entrusting their oral health to our team.
Despite her experience as a hygienist she has enjoyed the change of pace that has come with assisting Dr. White. She likes the chance to utilize her education and years of experience and to continue to grow, learn and adopt new skills. Jessica finds dentistry exciting and loves the industry.
Jessica is married with one daughter and likes to spend her spare time reading.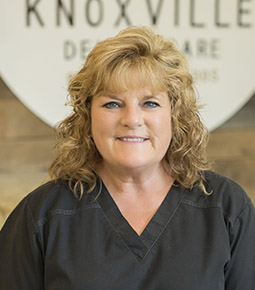 Teresa – Registered Dental Hygienist
Teresa has Bachelor of Science degree in dental hygiene and has been with Knoxville Dental Care since 2011. She is constantly attending continuing education courses to stay informed about the latest research and ideas and she also enjoys the chance to use the newest technology at our office. She uses that love of knowledge to educate our patients about oral health issues and she is always ready to learn new things that can benefit our patients and our team.
Kaitlyn – Dental Hygienist
Kaitlyn earned her Bachelor of Science in dental hygiene from East Tennessee State University in 2019 and came right to work with us. She appreciates the team spirit at our office and they way everyone helps each other out and is a team player every day! She makes sure that she gets to know her patients personally and understand their dental goals and needs. Kaitlyn has two sisters and is the middle child. She loves to sing, watch tv series and movies and do Zumba!
Teneil – Registered Dental Assistant
Teneil is passionate about being a chairside assistant and helping our patients. She is a 2006 graduate of Tennessee Technology Center. She joined our team in 2018 and loves the people she works with. She has three dogs: Tucker, Diablo and Deuce and loves to explore the mountains on horseback with her grandfather and younger sister.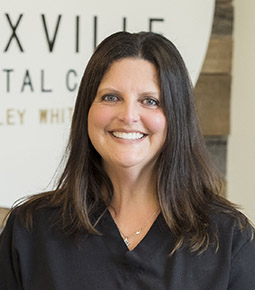 Christy – Registered Dental Assistant/ Front Office
Christy prides herself on always being present for our patients and team and giving 100 percent. She joined our team in 2010 and loves helping patients with their dental and insurance needs and helping them better understand the insurance process. She is married with two girls, one grandson and two girl fur babies. She loves traveling, going to the beach and drag racing.
Mary – Front Desk
Mary has been a part of our team since 2016 and loves the team spirit and the way everyone is willing to help one another at Knoxville Dental Care. She always maintains a positive attitude and helps out wherever she is needed. She has two adult children and four grandchildren and always enjoys seeing them. She also looks forward to spending time camping and being in the outdoors.